For all your wardrobe and shower screen needs, it has to be Rocbilt.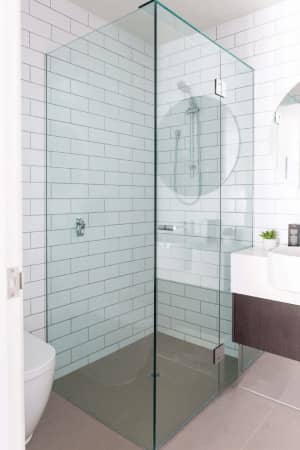 Your trusted source for shower installation
Rocbilt is your trusted source when you need lifestyle solutions for your home. Our team of professionals can do custom design, manufacture, and install durable lifestyle solutions that will increase the beauty as well as the functionality within your home.
Count on our team today for all your lifestyle solution needs. Our highly qualified staff can work on any type of residential property across the Melbourne region. We have over 20 years of experience installing custom wardrobe, shower screens and security doors, among other things.
Whether you're looking for a custom wardrobe for your bedroom, shower door for your bathroom or a security door for your home, we can install them in your home. When you work with us, you'll only receive personalized customer service and functional products that are manufactured according to your needs, preferences and the interior design of your home.
We provide a variety of services. Though we work in various categories, we mainly specialize in installing:
Shower screens
Custom wardrobe
Glass needs
Security doors
Skilled Team to Work on Your Glass Projects in Craigieburn
Our spotless reputation is built on our excellent customer service and commitment of our team members over a period of over 20 years. To ensure that every detail is customized according to you, we listen to your suggestions and communicate with you, throwing various ideas around so as to provide you with the best possible service.
Rest assured that our workmanship and all the materials we use are under warranty. You can rely on us to do the work without affecting any other part of your home. You'll receive a 100% satisfaction guarantee when you choose us for the job.
The glass we use for your shower screen and door complies with Australian standards and all the materials we use are of superior quality. We also provide a quick turnaround time when it comes to supplying all the necessary materials or supplying and installing them in your home.
Our services are not limited to the Melbourne region but also extend to the Craigieburn, Wallan, Kilmore, and Broadford areas. Contact us today for a FREE onsite measurement and quote. We'll gladly help you if you have any questions regarding the services we provide.
5 REASONS TO CHOOSE US FOR ALL
YOUR SHOWERSCREEN AND WARDROBE NEEDS

Glass Complies with Australian Standards
Over 20 Years'
Experience

Fast Turn Around – Supply and Supply + Install

Onsite Free
Measure & Quote
Warranty on Workmanship and Materials
Semi Frameless Upgrade Range
Wardrobe Internals Package
Mirror Wardrobe Sliding Doors